March 29, 2022
Pipe + HubSpot: Tools, education, and capital you need to grow faster, better, and on your terms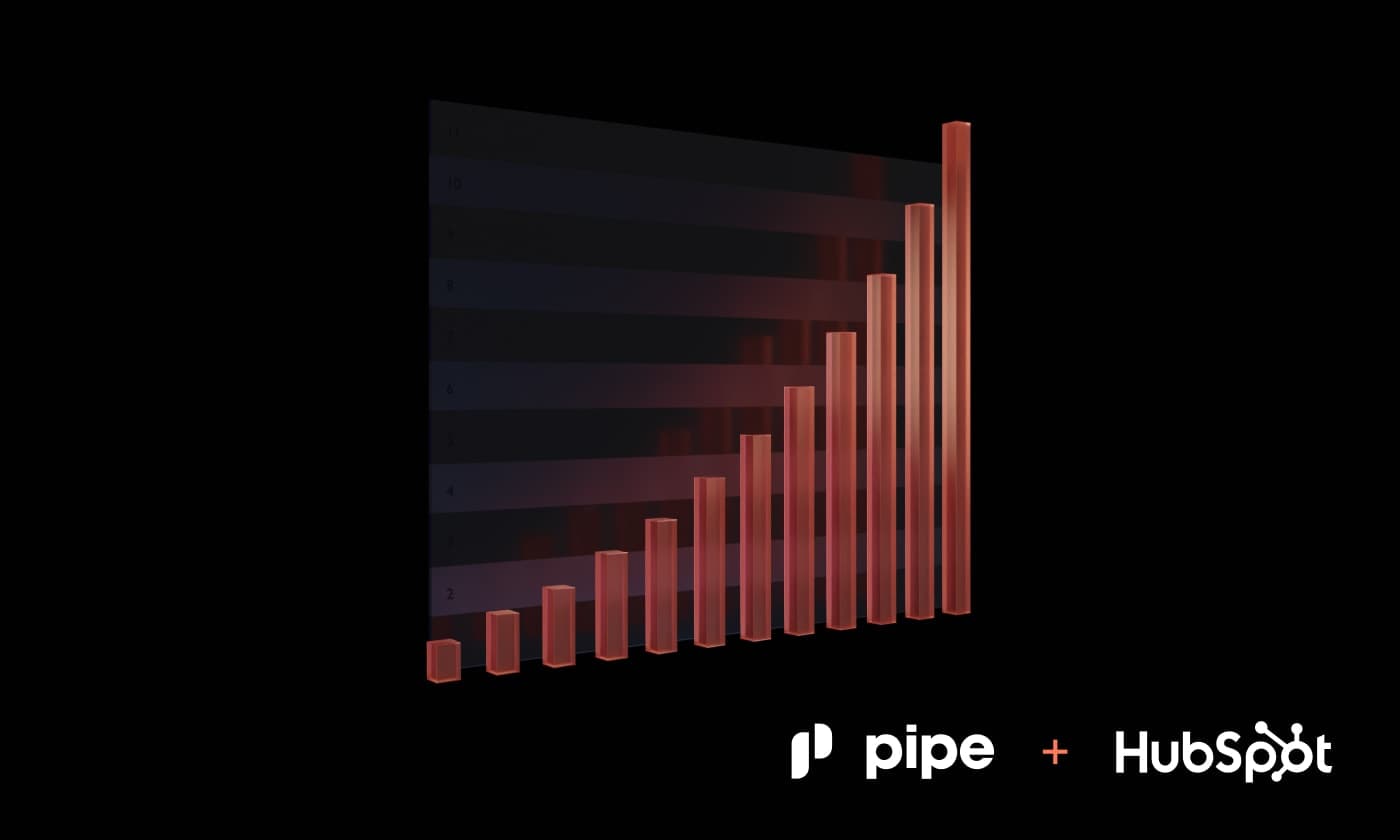 As it turns out, being a founder is hard. You need to do everything—build a product, find product-market fit, get the right people on your team, and convince a few friends to become customers. If you're lucky, your business will survive the early stages and you'll even have an opportunity to grow. But for many founders, growth is a major challenge. Folks don't know where to get started, or how to invest—if they even have the resources to invest.
That's why we're excited to share that Pipe has partnered with HubSpot to help startups grow better, on their terms.
Through this partnership, Pipe will make non-dilutive capital available to eligible companies in the HubSpot for Startups community (whether you're already part of it or you join now), all fee-free. Additionally, Pipe + HubSpot customers will be eligible for a meaningful discount off HubSpot as part of their HubSpot for Startups program.
But most importantly, this partnership provides startups with the core resources they need to grow:
Growth Training – with HubSpot Academy

Growth Tools – with the HubSpot CRM

Growth Capital – with Pipe
Through the Pipe + HubSpot partnership, a generation of startups will get training on how to grow sustainably, along with the tools and access to capital they need to invest in that growth.
Get capital for growth with Pipe 
As companies begin to scale, they often run into working capital shortfalls. SaaS and other recurring revenue startups frequently have a payback period of 12 months or more. That means a dollar invested in growth today doesn't come back as cash for another year.  
So while HubSpot is providing the training and tools founders need to build and scale their businesses, those founders may not have the capital they need to make the best use of those resources. Folks typically solve this by selling equity in their company (which can get expensive quickly if those growth plays work), or by charging annual up-front fees (often with a big discount attached, which can cut deeply into your profit margins).  
Pipe provides an alternative by enabling SaaS and other companies with predictable revenue to trade their future revenue streams for non-dilutive cash, instantly. This allows startups to provide flexible pricing to their customers, while getting the up-front capital they need to invest in future growth.
With HubSpot + Pipe, founders now have access to the training, tools, and capital they need to grow better and grow on their terms. We're excited to share this with you—learn more at pipe.com/hubspot.‍
Brad Coffey
Chief Customer Officer
Disclaimer: Pipe and its affiliates don't provide financial, tax, legal, or accounting advice. What you're reading has been prepared for knowledge-sharing and informational purposes only. Please consult your financial and legal advisors to determine what transactions and decisions are right for you and your business.