Pipe & Friends: What integrates with Pipe?
What integrates with Pipe? From Plaid to GoCardless to Quickbooks, learn which apps and softwares securely connect with Pipe.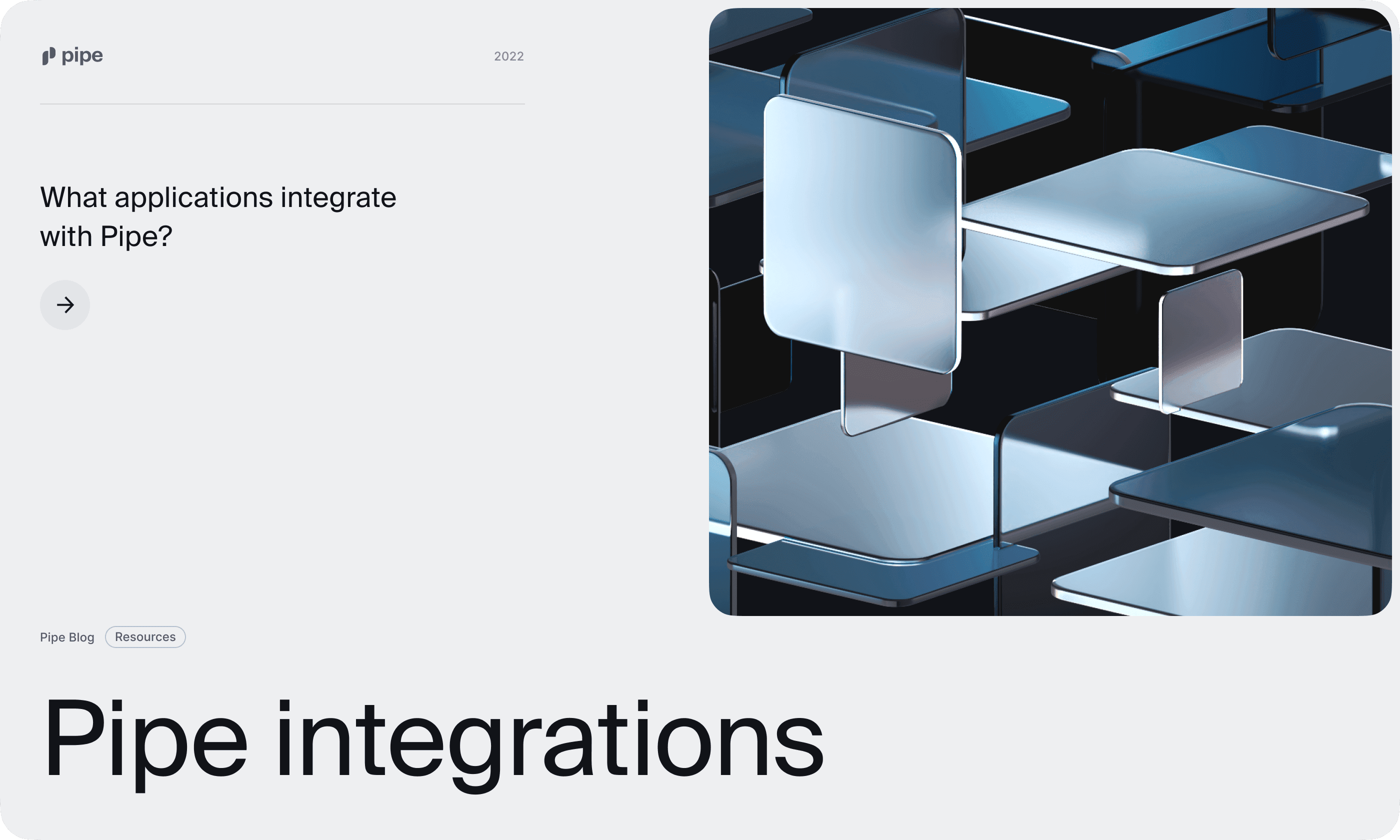 Lack of liquidity is a pressing—and common—challenge many entrepreneurs face. Even if cash is on the way and business is healthy, having the right amount of capital on hand at the right time can be critical both to managing day-to-day operations and continuing to invest in your core product or service.
The good news: Pipe can enable business owners with predictable revenue to access non-dilutive capital by connecting a couple of key accounts securely to its platform. Pipe makes getting access to capital fast, flexible, and seamless to get started, so you can grow your company on your terms.
Let's take a look at how integrations make trading on Pipe more efficient for you and your team.
First things first: How does trading on Pipe work?
Sign up on Pipe

Connect your accounts (we'll dig into this in a minute)

Get approved and receive your trading limit and bid price

Make your first trade
It's that easy. Once you've signed up and connected your accounts, you can get a trading limit (that's how much capital you can pull forward) and a bid price (that lets you know how much that capital will cost) so you know what's possible today and can act quickly in the best interest of your business.
Keep in mind that as your company grows, so too can your trading limit. Bid prices and trading limits are updated regularly and can improve over time as you build trading history.
How integrations help unlock your Pipe trading limit
Pipe aims to help you be more financially agile so you can grow your business on your terms, without the heavy manual overhead and paperwork that often comes with traditional financing.
That's why Pipe's trading platform integrates with popular billing managers, banks, and accounting platforms to make getting access to the capital you need easy.
But remember it's not about cutting corners—it's about efficiency. By securely connecting your accounts to Pipe, we're able to bring together speed and responsible analysis to quickly provide you with a trading limit and access to the best possible bid prices.
What platforms and services integrate with Pipe?
Pipe connects directly to the banking software, billing managers, and accounting platforms most businesses use to manage payments, send invoices, reconcile accounts, track finances, and more. By securely connecting your accounts with Pipe, we can keep your trading limit and bid price up to date with no extra work on your part.
Let's take a look at the growing list of platforms and companies that integrate with Pipe. Looking for something that isn't listed here? Let us know.
Bank Accounts
Why Pipe integrates with banking software
Securely connecting your bank account is important for establishing your bid price and trading limit. Syncing your bank account helps us understand your company's burn and runway.
What bank accounts work with Pipe?
Pipe partners with Plaid to enable secure, frictionless connections with hundreds of financial institutions. This includes major banks like Chase, Bank of America, and Barclays, credit unions, and startup-favorite financial institutions like Mercury, SVB, and Brex.
Billing Managers
Why Pipe integrates with billing managers
In order to trade, Pipe needs to identify your revenue streams and sync them to your Pipe dashboard. You can trade a single revenue stream or bundle multiple together to trade them for a bulk sum payout.
What billing managers integrate with Pipe?
Pipe currently integrates with the popular billing software below. Whether you currently work with these tools or are looking to level up your current setup, we've shared a little information about each to help you make the best decisions for your business.
Apple App Store Connect: Suite of web-based tools for managing the performance, sales, and reviews of apps that are sold on the App Store.
Chargebee: Billing and revenue management platform built for subscription businesses.
Chargify: Subscription management software for B2B SaaS companies that leverages billing, accounting, and data analytics tools.
PayPal Invoicing: Billing tool that enables businesses to create and send professional, customizable invoices to customers.
Recurly: All-in-one subscription management and recurring billing platform built for recurring revenue companies.
Stripe: Suite of fully integrated payment products built for online and in-person retailers that simplify managing businesses online.
Accounting Platforms
Why Pipe syncs with accounting platforms
Syncing your accounting software makes it possible for Pipe to better understand the financial health of your business—now and over time—through your P&L and balance sheet.
What account software integrates with Pipe?
Pipe connects to the following accounting platforms, and we're always working on adding new integrations.
QuickBooks: Accounting software solution built to help small to medium businesses manage their books with a variety of tools.
Xero: One of the most popular accounting tools in the world, for small and medium-sized businesses.
FreshBooks: All-in-one invoicing and accounting solution designed for small to medium business owners and accountants.
Oracle Netsuite: Integrated cloud business software suite that includes business accounting, ERP, CRM, and e-commerce software.
Sage: Cloud financial management and accounting software for small businesses.
Zoho Books: Online accounting software for managing business finances.
What works with Pipe? Your business.
For companies with product-market fit and predictable annual revenue of $100k or more, Pipe can enable you to connect with non-dilutive capital to finance growth. Connecting to your current systems and platforms helps us quickly determine the financial health of your business so you can get access to the capital you need to continue growing and running your business on your terms.
These integrations are just the beginning. Working with a different tool? Fill out this form to request integrations with other tools that may not yet be listed above. If you use another software but want to get started right away, Pipe also offers manual upload options via .csv files.
For more information on how to use your recurring revenue to access non-dilutive up-front capital through Pipe, visit our Integrations page, or learn more about how Pipe works for SaaS, D2C, service businesses, and more.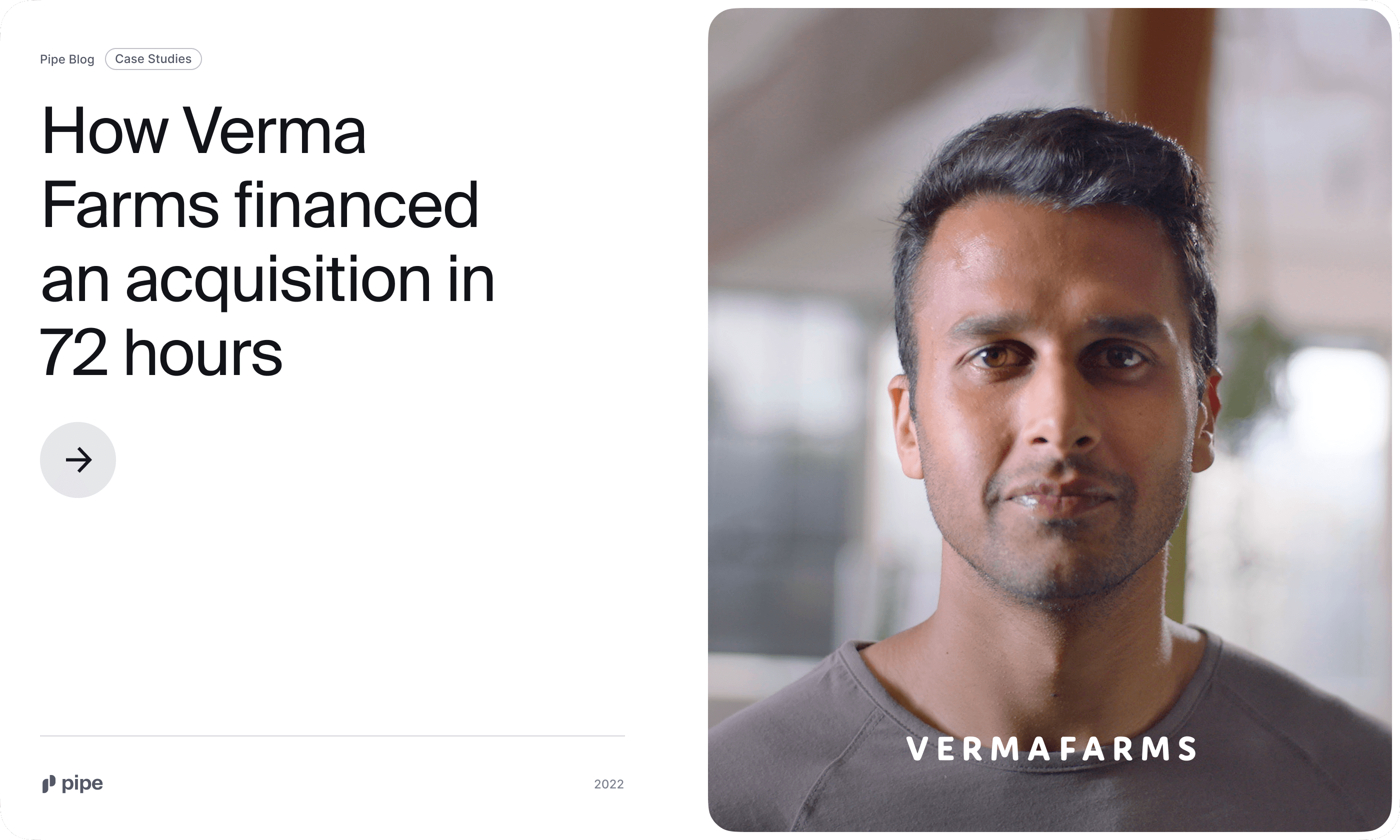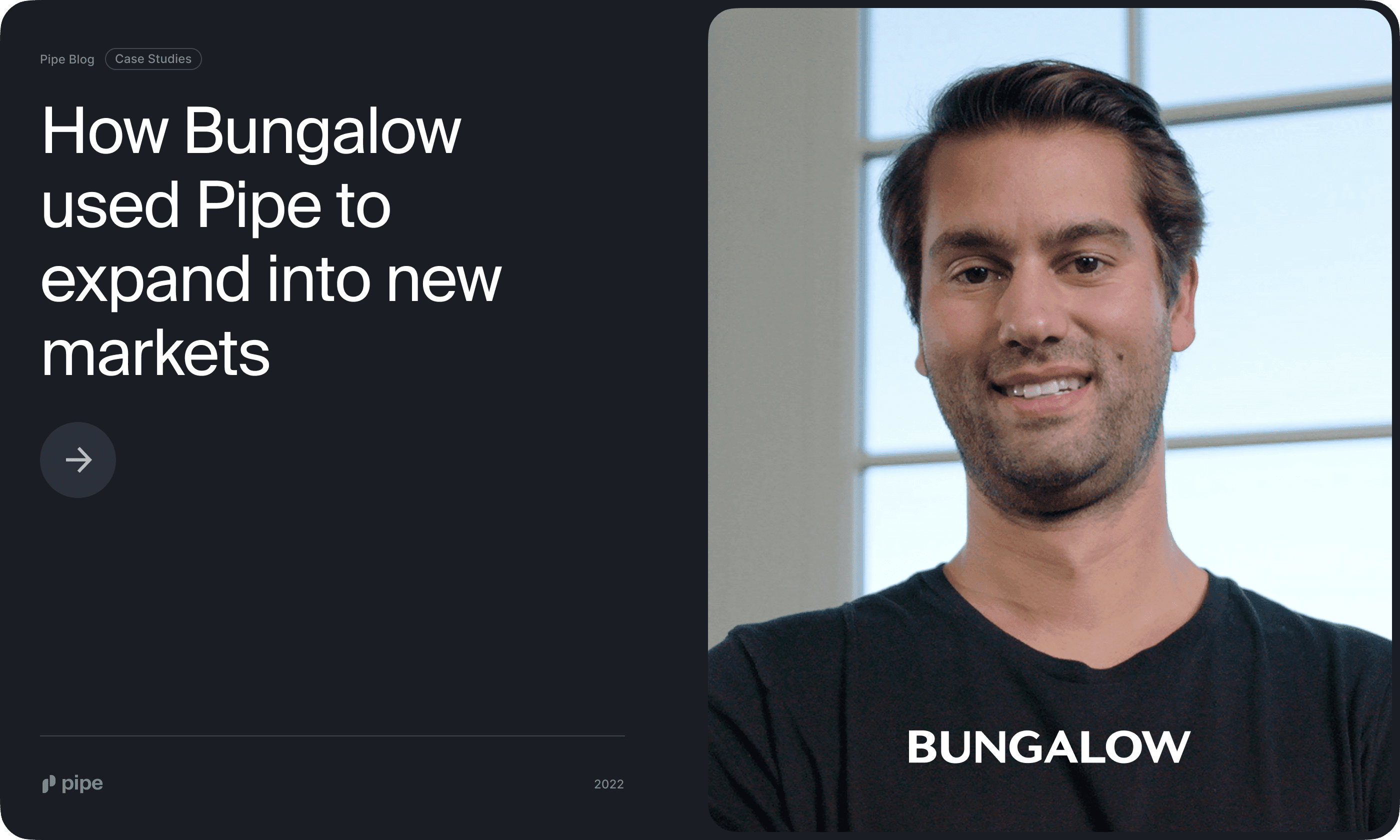 April 28, 2022 — 2min read
2min —April 28, 2022
Subscribe
Get the best of Pipe's Blog